Farm Fresh Coffee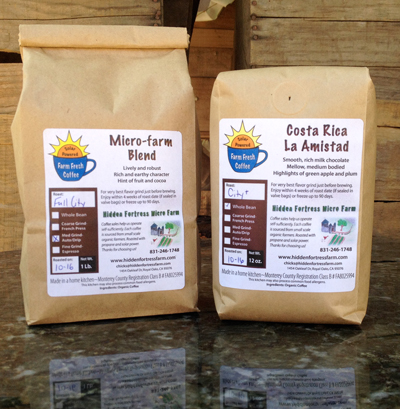 Small Batch & Eco-Friendly Roasting
Here at the farm we roast in small batches on our propane and solar powered coffee roaster the day before delivery. Our organic beans are sourced globally from small scale farmers, and roasted locally in small batches to insures the coffee is at it's peak flavor and freshness.
Roasting it locally to reduce transport and packaging costs helps build a stronger local economy. Your purchase provides a valuable source of revenue and keeps more of your coffee dollars in the local economy.
We roast organic fairly traded coffee, produced by small scale micro farmers who often do all of the processing by hand or with Co-op facilities in their own community. Each variety is roasted to its optimum flavor, which is indicated as our standard roast. We can also roast to your custom preference with a minimum order of two pounds.
Freshly roasted coffee stores well in the freezer for up to 3 months, if in whole bean form. Ground coffee is best enjoyed within a few days of grinding, or within a few weeks if stored in the freezer. Whole bean coffee will be delivered unless you request it ground.
Current Micro Farm Roasted Offerings
These are the coffees we are offering right now. Selections change from season to season (scroll down to see everything). Like other farm products, coffee is a crop, and each region has it's good years as well as some bad years. We choose a few outstanding coffees each season. Each one is sourced from a small farm and is organically grown—we are working on our own certification, so we can't label it organic...yet! We offer a selection of six to eight varieties at a time. If you really really love a particular coffee, and have to have it year round, you might want to sign up for a 3 month subscription. We can set aside enough green beans (if available) to meet your needs for the duration of your subscription, and roast them just before each delivery.
How to Order
You can order coffee from us for delivery to your home or office throughout Santa Cruz county. Delivery is free every Friday with a minimum order of $20. Coffee is roasted to order on Wednesdays & Thursdays for delivery or shipment on Friday. Orders must be received by 2 PM on Thursday for delivery the next day.
Order by e-mail: chicks@hiddenfortressfarm.com
Phone: 831-246-1748
Online: Use our shopping cart (scroll down)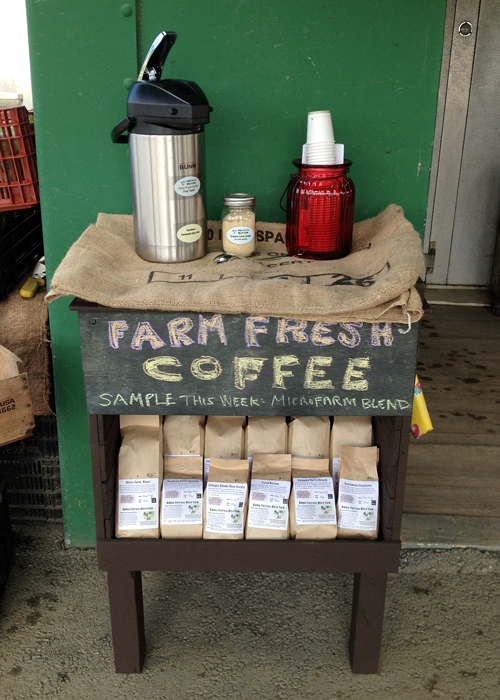 Farm Stands:
Purchase at one of our partner farm produce stands!
We stock a variety of fresh roasted coffee at the following locations. Coffee only orders for pick-up at one of our Partner Farm produce stands will be dropped off by 3 pm on the Friday following your order. Orders must be placed by Thursday at 6pm.
Casalegno's Family Farm Stand 3700 Old San Jose Road, Soquel, CA. 95076
***Seasonal: May through December***
High Ground Organics Farm Stand 200 Lee Rd, Watsonville, CA 95076
Farmer's Markets: See us at these Farmer's Markets!
Boulder Creek: New Time! Thursdays 2:30-6:30 (Seasonal: April through November)
Felton: Tuesdays 2:30-6:30. We serve brewed coffee here! (Seasonal: May through October)
Marina: Sundays 10-2. We serve brewed coffee here!
Pacific Grove: Mondays 3-7. We serve brewed coffee here!
Scotts Valley: Saturdays 9-1. We serve brewed coffee here! (Seasonal: April through November)
If you live outside of our local delivery area you can order online and choose the shipping option. Coffee is shipped by Priority Mail. We offer flat rate, subsidized shipping: Just $7.50 per shipment, regardless of your order size. Orders shipped to any California address are just $5 per shipment.
Green Coffee Beans




We now offer green un-roasted coffee beans!

Most of the single origin coffee we sell is available to purchase green if you are a home roaster or want to try roasting your own coffee. All of the green coffee we buy is certified organic and almost all is Fair Trade. We are not yet certified organic, so we cannot put this on the label—but we are working on becoming certified in 2014!!

If you want to learn more about coffee roasting, here is a nice blog post: Simple home coffee roasting

This is a really good book if you want to get serious about home roasting:

$8 for 1 lb., $15 for 2 lbs., or $35 for 5 lbs.




Single-Origin Coffee Sampler Pack

A great way to try our most popular coffees. And all done up in a pretty package so it's easy for gift giving. The sampler includes four of our best coffees (single origin or blends). Packed in 6 ounce bags and with a brief description on each label. The selection may vary, but you can be sure we include our best, because we really want you to discover new coffees that you will love! In our sampler, each coffee is roasted to it's ideal level, so you will experience the full flavor of each variety included.

$25 for four 6 ounce bags, packaged in an attractive gift box




Microfarm Blend

Hints of fruit and cocoa add depth and liveliness to our signature blend. Coffees from Central and South America meld to produce a smooth, balanced cup with a rich earthy character. These are top quality organic, Fair Trade, Arabica coffees from micro scale producers who cherish the earth as much as they take pride in their great coffee! French roast (dark).



$15 for 1 lb., $28 for 2 lbs., or $12 for 12 ounces




Micro Moka Java Blend

This blend joins a vibrant, fruity, and complex Ethiopian coffee with the rich and earthy Indonesian coffee for our take on the classic Moka Java. Both coffees are from small scale farmers who choose earth friendly growing and harvesting practices. In this blend the wild and rustic gaminess of the Ethiopian coffee is slightly tamed by the smooth and rich island coffee from Flores, resulting in a coffee that dances in your mouth with creamy vanilla, cocoa, and citrus blossom flavors. City+ roast (medium).



$15 for 1 lb., $28 for 2 lbs., or $12 for 12 ounces




Hidden Fortress Espresso Blend

After a lot of testing with many different amazing coffees, we have put together an espresso blend worthy of our name. Our blend is 100% Arabica coffee that will produce a rich, dense shot of espresso with a lovely topping of crema and exceptional flavor. Fruit and rustic notes from dry processed Sumatran and African beans predominate, with a splash of bright American coffees to create a balanced blend. Full City roast (dark).



$15 for 1 lb., $28 for 2 lbs., or $12 for 12 ounces




American Blonde Blend

We developed this blend in response to a growing demand for very light roasted coffee. On our small roasting system, it has been challenging to achieve consistency in the lightest roasts because our batch size is so small and there is quite a variation in moisture content and density between the different single origin coffees we have worked with. By blending several South and Central American coffees we have been able to create a smooth very light roast. A roast this light means the coffee is very high in caffeine and has a complex acidity. The appearance of the beans is mottled and uneven, but this irregular appearance disappears when the coffee is ground. Some of the more delicate flavors and compounds of the coffee varieties are preserved, but there is very little roast flavor. This makes the coffee taste very interesting, but very different, from what you might be used to! Our blend has a smooth, almost buttery flavor with hints of white chocolate and citrus blossom. Note: Only available in American roast (light).



$15 for 1 lb., $28 for 2 lbs., or $12 for 12 ounces




Bali Kintamani

A rich Island coffee—exotic and flavorful. Dry processed to produce a sweet and earthy brew with tropical fruit nuances. Hints of custard apple and apricot combine with deep earthiness to make this a complex and memorable cup. Full City roast (medium).



$15 for 1 lb., $28 for 2 lbs., or $12 for 12 ounces




Bolivia Illampu

This full bodied coffee provides the backbone to delicious and interesting flavors of cocoa, almond, and orange, accented with hints of cherry and plum. Named for the 4th highest mountain in Bolivia, and is just as full bodied and rugged as the terrain it comes from. Grown in very high elevations by a very small cooperative of micro farms to whom the income from coffee provides a decent living in one of the poorest countries in South America. Full City roast (medium-dark).



$15 for 1 lb., $28 for 2 lbs., or $12 for 12 ounces




Colombia Sierra Nevada

A classically smooth Colombian coffee with a low acid profile. Has vanilla and almond blossom floral highlights with hints of cocoa in the finish. Grown in the high mountains of northern Colombia by small indigenous farmers who revere nature. French roast (dark).



$15 for 1 lb., $28 for 2 lbs., or $12 for 12 ounces




Costa Rica La Amistad

This wonderful coffee from Costa Rica is rich, mellow, and super smooth. A great breakfast cup with balanced flavors of milk chocolate nuanced with highlights of crisp green apple and plum. The La Amistad family estate is located in a remote region of Costa Rica near the border of Panama. The farm where this coffee is grown is very self sufficient and operates with deep rooted sustainability practices including composting, using hydro-electric power, and growing in harmony with the local ecosystem using shade grown small plot practices. The family maintains some of the family lands as a forest preserve, and supports over 20 other farming families who live on their land. Full City roast (medium-dark).



$15 for 1 lb., $28 for 2 lbs., or $12 for 12 ounces




El Salvador Las Lajas

This coffee is modestly wonderful. It's a satisfyingly sweet full bodied coffee with honey caramel and nut butter flavors. Highlights of apricot, and cherry blossom add a liveliness to balance the sweeter notes and make the flavors linger. This coffee is grown in southwestern El Salvador by Members of the ACOPRA Cooperative which has a deep respect for tradition and the welfare of the workers who pick and sort this coffee by hand. This is a Rainforest Alliance certified coffee.



$15 for 1 lb., $28 for 2 lbs., or $12 for 12 ounces




Ethiopia Sidamo Watadera

This is a complex coffee with citrus fruit highlights & winey complexity. It has a sweet body & light cacao finish resulting in a wonderfully balanced coffee. Our newest batch of Ethiopia coffee, similar to the Nura Korate. We hope you enjoy our fresh shipment from this amazing coffee growing region. Our standard roast is City (medium-light).



$15 for 1 lb., $28 for 2 lbs., or $12 for 12 ounces




Ethiopia Yirgacheffe Adame Gorbota

It has been awhile since we offered a Yirgacheffe. This one is worth the wait! If you like a lighter roast with rich complexity, here is your coffee. There is a delightful citrus character best described as Meyer Lemon, paired with rich fig, nutmeg, and vanilla bean flavors. These beans are from heirloom coffee trees in the southern part of Ethiopia, the birthplace of coffee. We roast this medium light: City roast.



$15 for 1 lb., $28 for 2 lbs., or $12 for 12 ounces




Guatemala San Pedro

This is a fantastic example of good Guatemalan coffee. A semi-sweet coffee with a medium body and just a hint of cocoa. The flavor is rich, earthy and goes down smooth with no bitter aftertaste. Smoothness is balanced by bright finishing notes of red berry and citrus. Full City roast. Grown by micro farms in the mountains surrounding the beautiful Lake Atitlan.



$15 for 1 lb., $28 for 2 lbs., or $12 for 12 ounces




Java Kayumas Taman Dadar

A long name for a simply delicious coffee from the highlands of Java. The name Taman Dadar means flower garden in the Indonesian language. This coffee is grown in the shade of other trees like avocado and fast growing timber trees. Because it grows more slowly in a shaded setting, the beans have more complexity than other coffees from this region. It is sweet as a good Island coffee should be, with dark cocoa and fruit flavors with a hint of clove. The coffee finishes smooth with citrus highlights hinting of orange marmalade. Full City roast.



$15 for 1 lb., $28 for 2 lbs., or $12 for 12 ounces




Mexico Loxicha Pluma

Here is a sweet, full bodied coffee with a wonderful caramel toffee sweetness and rich earthy character. A hint of citrus and dark chocolate linger at the finish. If you are fond of tropical coffees from Hawaii, this one is definitely worth checking out! Grown in the mountains in the community of San Baltazar Loxicha, a coastal region of Oaxaca, where coffee provides most of the income for the community. Our standard roast is French (dark).



$15 for 1 lb., $28 for 2 lbs., or $12 for 12 ounces




Sumatra Takengon

We have been waiting for a good Sumatran coffee, and this one is worth the wait! Very full bodied with a syrupy mouth feel and herbal woody hints. It is also a wonderfully sweet coffee with an earthy character. Highlights of exotic passionfruit and custard apple give this coffee the complexity to make exceptional pour-over brews and espresso.



$15 for 1 lb., $28 for 2 lbs., or $12 for 12 ounces




Uganda Bugisu Sipi Falls

This is a surprisingly outstanding coffee from Uganda. It has a rustic appeal and a hint of wininess typical in African coffees—but this character melds well with the other flavors rather than overpowering them. The most wonderful hints of fig and vanilla waft from a hot, fresh brewed cup. It has a leathery full body, and remarkably low acidity for an African coffee. This coffee does very well in espresso shots.



$15 for 1 lb., $28 for 2 lbs., or $12 for 12 ounces




Microfarm Blend Decaf

We though we couldn't do better than the Peruvian decaf we offered last season, but we actually have. This decaf will have you coming back for more, without getting a huge case of the jitters. Smooth, earthy, sweet, and flavorful, this blend is wonderful as a drip coffee or as an espresso drink. It is smooth with a touch of orange blossom brightness and hints of cocoa. This is top quality organic Arabica coffee. Full City roast (medium dark).



$15 for 1 lb., $28 for 2 lbs., or $12 for 12 ounces



Subscribe to Our Farm Fresh Coffee Delivery Service!
Packaging options
All of the coffee bags we use to package our coffee in are biodegradable! Freshly roasted coffee is at its best if enjoyed within one week from the roasting date unless it is packaged in protective bags such as the biodegradable valve bags we offer below, or stored in the freezer. By freezing or packaging in valve barrier bags, the optimum freshness will last up to six weeks.
Compostable tin-tie bags:
These bags can be composted in a home compost. Simply remove the wire tab (and recycle it), and toss the bag in your compost pile, where it will break down just as quickly as a paper grocery bag. All orders for local delivery are packed in these bags unless otherwise requested.
Biodegradable valve bags:
These bags are made from 100% biodegradable materials, including the plastic valve. This special one way valve allows the C02 and other gasses that are normally emitted from fresh roasted coffee to escape without allowing any oxygen into the bag. This packaging preserves the fresh roasted flavor for weeks instead of days, and this protection lasts until the bag is opened. All orders that are shipped are packed in these bags unless otherwise requested.
Wholesale
We offer wholesale pricing to licensed retailers and restaurants. Please contact us for a wholesale price list. Our wholesale terms are payment at delivery, and we do offer a small discount for subscriptions paid at the start of each monthly delivery cycle. Delivery is free to wholesale customers in Santa Cruz county.