Farm Fresh Coffee Subscriptions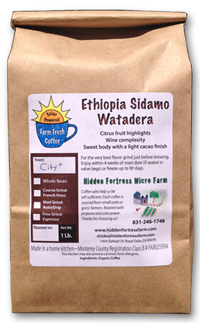 Subscribe for regular deliveries of coffee from the Hidden Fortress Farm! By subscribing, you can save up to $3 a pound off our regular coffee prices. Subscription orders are always roasted the day before delivery or shipment, so you always get the freshest coffee by subscribing.
With a subscription, you just pay once a month and then the coffee is delivered or shipped weekly, biweekly, or monthly—depending on the frequency you choose. More frequent deliveries will give you the freshest coffee, but in most cases will cost a little more. To get free or dramatically reduced cost delivery, choose biweekly or monthly deliveries.
Delivery in Santa Cruz county is free for deliveries valued over $20, and just $2.50 per delivery for deliveries under this amount. We do not offer delivery service in Monterey County, but you can still subscribe and pick your subscription up at the Sunday market in Marina or the Monday market in Pacific Grove. You can also subscribe by mail. Shipping is just $5 per shipment for regular mail subscribers. These subscriptions are the most economical when shipped once a month.
Subscriptions require payment before each delivery cycle. Typically the payment is once a month. A custom payment schedule can be created if monthly payments do not work for you, as long as payment is made before or at each delivery.
How to Subscribe
Online: Use our subscription shopping cart (scroll down)
E-mail*: chicks@hiddenfortressfarm.com
Phone*: 831-246-1748
*Cash or check will be due at the first delivery of each month, or we can set up a regular credit or debit card payment by phone.
Home or Office Delivery Coffee Subscription
You must live or work in Santa Cruz County or be able to pick up the coffee at one of our farmer's market locations for this option. For subscription options that require a delivery valued at under $20, the price includes a $2.50 charge per delivery.
Weekly Coffee Local Delivery
Bi-Weekly Coffee Local Delivery

Monthly Coffee Local Delivery

Coffee Subscription Shipped To You:
This subscription includes shipping anywhere in the United States. Each month's coffee is sent in one shipment per month. A shipping charge of $5 per shipment is included in the price.
Twice Monthly Coffee Shipment
Once Monthly Coffee Shipment
If you would like to add items, just order 1 day before your scheduled delivery day. Add on items must be billed separately by ordering through Paypal or by making payment at delivery.
Subscriptions may be canceled at anytime, however cancellations that occur after the first delivery of the month will not go into effect until the following month. If for some reason you are not able to receive the remaining deliveries of a subscription that are fully paid for, we will donate the items you have paid for to a local food bank.